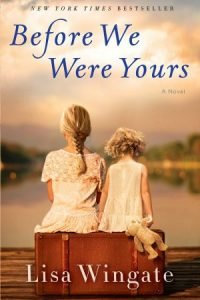 By Lisa Wingate
"Based on one of America's most notorious real-life scandals—in which Georgia Tann, director of a Memphis-based adoption organization, kidnapped and sold poor children to wealthy families all over the country—Lisa Wingate's riveting, wrenching, and ultimately uplifting tale reminds us how, even though the paths we take can lead to many places, the heart never forgets where we belong." (From Amazon.ca)
---

What happened at book club…
It was unanimous. Under normal circumstances I'd say we all enjoyed this book very much. Given the subject matter saying we enjoyed it, seems wrong. But for lack of something more appropriate, enjoy it we all did. The author writes beautifully and, although heart wrenching, we appreciated that May's journey home was not tied up in a neat little bow.
None of us had any idea as we started this fictional account that the Tennessee Children's Home Society and the creature Georgia Tann had ever existed. As the story progressed it became clear the fictional Foss children were representative of the inhumanity suffered by real children snatched from their families to be sold to those who could afford them – 5000 children of them in fact.
We loved that the 4 sisters were able to share time together in that little cottage and that May and Judy would be together to the end. This was a difficult book to put down once Judy and May's story began to unfold. Be forewarned, it is one of those books that will stay with you after the last page is read and you close your eyes to sleep.